The Foxwell's are an English cruising family of three + their dog Winnie! One day they want to sail to warmer regions but until then they sail as much as they can on and around the south east corner of the UK. They share their adventures on Youtube and I had the chance to get an interview with them. You will find the link to their channel further down below. (There is also a German version → of this interview!)
Captain Sailnator: Hello Foxwell family! Thank you very much for taking the time for this interview! Just introduce yourself to my readers:
Hannah: Hi I'm Hannah and I'm married to Ian and we have a seven year old daughter Elizabeth a toy poodle called Winnie, that's 'Winnie the Poo'…dle. We live and sail, on and around, the south east corner of the UK. We have a dream of just weighing anchor and sailing off to warmer climates but like many people with the same dream we find that it's not going to happen just yet, so we make the most of the sailing opportunities that we have on our door step.
Captain Sailnator: How and when did you learn to sail?
Hannah: I come from a sailing family who have cruised up and down the east coast of England their whole life. Ians history is a little different.
Ian: Yes well I used to fly hang gliders and about 14 years ago a good friend of mine convinced me that I should come along with them to a dinghy sailing club on the days that weren't flyable. Well that year the weather turned out to be particularly miserable and I found myself doing more sailing than I was flying, and so the sailing kind of took over. So much so that I have long since given up on the flying
Captain Sailnator: What kind of sailing experience did you have before you bought your boat?
Hannah: Well I guess you can tell by now that we are largely self-taught but apart from years of dinghy sailing and pottering around on my parents boat we hadn't skippered a boat until the day we bought our own yacht, so to answer your question lots, or very little depending on your point of view.
Captain Sailnator: How did you get started in the cruising life?
Ian: Well that's an easy story that gets more complicated as we tell it. It starts the day I was made redundant, and although this came as a shock, and was a real shame because the company I was working for at that time was great, it turned out to be a blessing in disguise. Two reasons, one it gave me a 6 month window of gardening leave in which I could build a large extension onto the side of our house (we were expecting our first child at this time and could use the extra space) and then, just when I needed it, I found a new job. So this meant that we now didn't have to break into the redundancy pay that I had received, so we had a large wedge of cash burning a hole in our pocket. The sensible thing to do would have been to invest it, or pay off some of our mortgage, but what we actually did was buy a boat.
Hannah: A 32ft Beneteau called Muskrat Ramble to be precise.
Captain Sailnator: What kind of boat do you have now?
Hannah: Ok you have to skip forward a bit now. We sold Muskrat, our Beneteau and bought a Jeanneau SunFast 32i 'White Magic' which was awesome. Just as comfortable and fun to sail as Muskrat but faster and it came with a complete set of North 3DL racing sails which Ian loved as it meant he could race it in between family cruises and we did pretty well with her. But then I lost a long term contract that I had with a local opticians (I'm a locum dispensing optician) and its my money that pays for the toys so we started getting a bit worried, after all there seemed to be a bit of a theme going on here. Ian had also just changed jobs again as his latest company was getting taken over and he didn't want to get pushed out, so we sold White Magic and downsized to Rowena, a 20ft Red Fox trailer sailor, quite a change!
Captain Sailnator: Why did you decide to buy just this one!
Ian: I don't think there is ever just one reason why anyone ever buys a boat, its such a life style based decision that there are no end of things to think about, but in our case the one overriding reason was its size. It was the biggest boat, with the most amount of internal volume that we could fit on a trailer beside our house. You see we love our sailing and didn't want to give it up but sometimes in life you have to go backwards to put yourself in a better positon to move forward.
Hannah: This way we got to keep sailing as a family yet drastically reduce our running costs on yacht club fees, mooring fees, yard fees, haul in/out fees etc etc etc and we get to experience a whole new type of sailing, in shallow waters. You see Rowena doesn't have a keel but instead has a ballasted floor and two lee boards, one on either side. With the boards up she only draws 200mm so we get to go to loads of places that we have never been able to reach before, and see a whole new side to our normal sailing waters.
Captain Sailnator: How did you find it?
Ian: We found ours on Apollo Duck. Red Fox's are unique little boats that don't appear for sale very often and generally they get snapped up pretty quickly when they do.
Captain Sailnator: Did you have the help of an agent or of a surveyor?
Ian: No, its other great advantage to buying a small cheap boat. When you're investing a lot of money you want to make sure your investing it wisely so you end up spending even more money on agents, surveyors etc but the less you spend the more of a chance you can afford to take. In our case having already bought and maintained a couple of yachts as well as the years spent building and working on dinghies before this meant that we had a pretty good idea of what to look out for.
Captain Sailnator: Which obvious problems did the boat have?
Hannah: Rowena was basically sound. All the structural things where good and even things like the cushions were fine as they had recently been recovered, the real problems came from the fact that she hadn't been used for a few years. The electrics had suffered and things like the decks and wood work needed redoing but that's what I have Ian for so it was fine.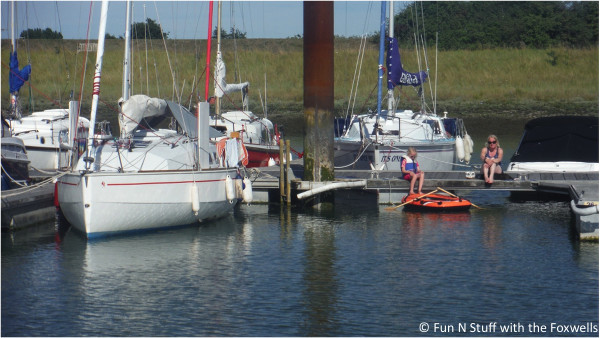 Captain Sailnator: What did you repair, replace or change by the refit and how long did it take?
Ian: Basically we rewired the entire boat, fitted new instruments, radio, chartplotter, LED lights and then two house batteries and a solar panel to keep it all working.
Hannah: And I cleaned it all from bow to stern, don't forget that.
Ian: Yes and then we repainted the decks and cockpit, varnished the woodwork etc, all the normal stuff that boats need from time to time.
Captain Sailnator: Do you have any advices for sailing on a budget?
Hannah: If we have learnt anything from Rowena its that the pleasure you can get from your sailing is not proportional to the money that you spend, and if it is, then it's that the less you spend the more fun you will have.
Ian: What Hannahs saying here is that when we had White Magic we were always worried about having our savings tied up to a buoy bobbing around in the river Medway. Plus when the time came to buy something it would always be of a size and price to match. The smaller the boat, the smaller the stuff you need, and the cheaper it gets. Better to have a small cheap boat, and then have the confidence and money to do all the things that you want, than a bigger one that you worry about and struggle to afford.
Captain Sailnator:What are your future plans?
Ian: You know how motivated and successful people tell you that in order to achieve your goals in life, that you need to have a plan, that you should work out what you want to be doing in 5,10 years time, and so on. Well we don't agree with that, or at least those ideas don't work for us in our current position.
We have the dream of going travelling and so when important decisions crop up during our life we make the decision with one thought to how it might affect us achieving our end dream but were not in a position to make any firm plans or to actively pursue them just yet so we don't want to compromise the life we lead now. You only get one shot at life so better to make the best of your current situation than plan on something that may never happen.
Hannah: You see we are lucky enough to have both sets of parents, Elizabeth's grandparents, still alive but they are all in their later years now, and all have health issues of one sort or another, some serious. So now just wouldn't be the right time to go travelling anyway.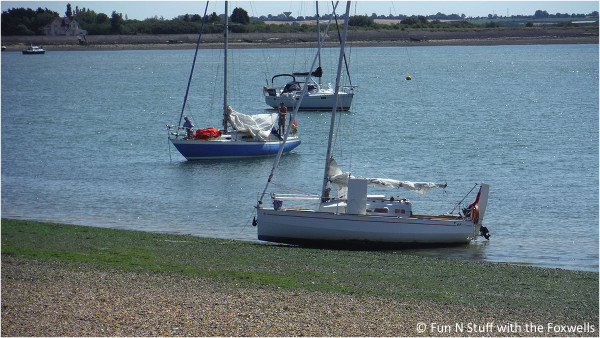 Ian: To demonstrate this let me explain to you our finances a little. Most people that want to go cruising start selling off their possessions, decluttering their lives and try to raise the necessary funds to finance their dream. We did the opposite. We sold off our lovely family cruising boat and bought a small trailer sailor to keep ourselves afloat. We did this so that we could use the money to help pay off a large slice of our mortgage, make ourselves more financially secure and put ourselves in a better position upon which we could start saving. You make the best of what you have, so we bought the biggest small boat we could afford and then set out to make the best of it, play to its strengths, do the things that make it special and that we couldn't have done in our previous boats.
Hannah: I think its all to easy to set your heart on a grand plan, spend your life working towards it only to find that circumstances don't allow you to achieve your goal and then your disappointed. We're making the best of the situation and enjoying our sailing. It may not be as grand or exciting as the dream but its fun all the same, and it's a realistic way to go sailing. Lots of people have the big dream but how few ever get to live it. We are just choosing to live lots of small dreams instead and that's what we try to show to our viewers on youtube.
Captain Sailnator: Where or how do you publish your adventures and your life on board?
Hannah: We have a YouTube channel in which we document our sailing adventures and we are blown away buy the response we get. We aren't really trying to achieve anything with it, we don't have any great plans to earn a living from it or win any awards, its really just so that we can share our adventures with our friends. And so that in the future Elizabeth can look back on the things that she got up to with her parents.
Youtube Channel: https://www.youtube.com/funnstuffwiththefoxwells
Captain Sailnator: Hannah and Ian, thank you very much for this very interesting interview. I think your way is a good example how to start a cruising career and how to lay the bases for your dream. I wish you all the best and maybe one day we will meet each other out there, on the roaring sea!
If your are a cruiser or liveabord and want to be interviewed too click here for further information!