Hello everybody!
Welcome to my free beginners' online sailing course. This lesson is designed to prepare you for a practical sailing course or as an accompaniment to it. But it is also excellent for people who are returning to sailing and want to freshen up their knowledge. For those who have just started it helps to understand how sailing works and is also suitable to introduce family members, partners and friends in this wonderful sport.
In this sailing course I will explain all the important sailing manoeuvres to you. After reading it you will visit your practical sailing course well prepared. Then you can concentrate on the actually important matter: Sailing
---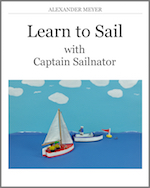 This online sailing course has also been published as ebook and paperback. For more information click here!
You can download the Ebook for example at:
iTunes UK & iTunes US | iBooks for iPad and Mac
Amazon.com & Amazon.co.uk | Kindle-Edition
Google Play | for Android
The paperback is available for example at: Amazon.com | Amazon.co.uk
---
In the text I sometimes ask questions that end on " … ?" Think about it and try to find the answer yourself. In between, you can watch all sailing manoeuvres in my stop-motion videos again. I wish you the best of luck in your sailing course, which I hope to prepare you well for.

The online sailing course is divided into the following chapters:
Technical Terms →
The theory behind sailing →
Close-hauled →
Beam reach →
Broad reach →
Sailing downwind →
Tacking →
Beating →
Quick-turn →
Sailing up head to wind →
Man overboard →
Jibing →
Heaving-to →
Leaving the dock →
Berthing →
Rules of the road 1 →
Rules of the road 2 →
Rules of the road 3 →
Reefing →
Capsizing →
At the bottom of each page you find an overview of all chapters of the online course as a navigation aid:
All chapters: Technical Terms | The theory behind sailing |Close-hauled | Beam reach | Broad reach | Sailing downwind | Tacking | Beating | Quick-turn | Sailing up head to wind | Man overboard | Jibing | Heaving-to | Leaving the dock | Berthing | Rules of the road 1 | Rules of the road 2 | Rules of the road 3 | Reefing | Capsizing