Tom tries to persuade Jenny to sail out to sea with him to snog a little bit. But Jenny is afraid that Captain Sailnator will get angry. But on the other hand: what should he say? It's the last day of their sailing course today.
← last Video | Overview | first Video →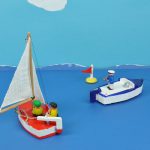 Suddenly Jenny is in a hurry. She leaves the dock perfectly and wants to be kissed on port side. Out on sea the two lovers need all their hands for the tiller and the sheets and Tom regrets that he forgot the anchor in the hurry. How should they perform their original plan now?
But Jenny knows how to help herself. She wants to heave-to and calm the boat. She orders Tom to cleat the jib sheet. She shoots up head to wind and almost stops the boat. With the remaining speed she turns the bow through the wind, with the jib standing backwards. Jenny releases the mainsheet and steers windward delicately. She makes sure that the bow does not turn back through the wind.
As the boat settles down Jenny and Tom relax in the sun. Sailing can be so nice. But the peace does not last for long. Harbourmaster Peter rushes along with his powerboat. The swell shakes the sailboat and the crew nearly get seasick. Once they feel better, Jenny asks Peter how he liked the Notting Hill Carnival.
Peter is thrilled. He saw a lot of beautiful women in beautiful costumes. (or what was left of it.) Anyway he wants to go there again next year. Captain Sailnator wishes Peter a lot of fun already. An exhausting sailing lesson lies behind him. Now it is finally time for closing time. His opinion is: "All work and no play makes Jack a dull boy!" So everybody returns to the harbour.
Jenny and Tom have to beat and Captain Sailnator stops to let them pass in front of his bow. Harbourmaster Peter does not realise and crashes into the Captain's stern. Surprisingly Captain Sailnator does not say anything about the accident this time. So he says anyway.
You can embed this video on your website. You will find the respective code here on Youtube → Don't forget to share the video on facebook, twitter, google+ etc. Thank you very much!
All videos: Leaving the dock | Points of Sail | Tacking | Beating | Berthing | Quick-turn | Sailing up head to wind | Man overboard | Jibing | Heaving-to
Legal notice: LEGO®is a trademark of the LEGO Group of companies which does not sponsor, authorize or endorse this site.