Jenny and Tom show how to leave the dock in this video. Jenny, as helmsman, takes her seat on the side she does not intend to sail to. Tom, as crew, holds the jib backwards also on the side Jenny does not intend to sail to. But the tiller points to the side they want to sail to.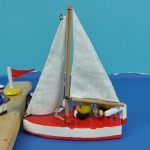 Harbourmaster Peter stands on the jetty watching the manoeuvre. He always has something to grumble about. Jenny should be careful with his powerboat. Captain Sailnator tells Peter to shut up. He wants to clearly hear the commands.
Jenny calls: "Ready to leave on starboard tack?" Tom answers: "Ready!" Jenny goes on: "Back jib on starboard! Cast off!" When the boat is abeam to the true wind the jib sheet is released and the jib is pulled to the other side. The sails are trimmed properly to the course the two students are sailing. Captain Sainator is satisfied!
You can embed this video on your website. You will find the respective code here on Youtube → Don't forget to share the video on facebook, twitter, google+ etc. Thank you very much!
All videos: Leaving the dock | Points of Sail | Tacking | Beating | Berthing | Quick-turn | Sailing up head to wind | Man overboard | Jibing | Heaving-to
Legal notice: LEGO®is a trademark of the LEGO Group of companies which does not sponsor, authorize or endorse this site.