Sailing instructor Captain Sailnator shows in this video how to find the points of sail. At first Jenny and Tom are told to sail a course directly into the wind. But they discover that this is impossible.
← last Video | Overview | next Video →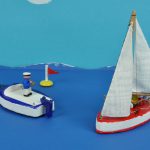 Next time they show how to sail close-hauled. They are heading up till the jib luffs and then they bear away till the jib fills with wind again. Close hauled is reached.
Now they go on to bear away and ease the sails at the same time. After a while they have reached the course "beam reach". Jenny continues to bear away. Suddenly the jib collapses and flaps, because it is now in the wind shadow, directly behind the mainsail. As soon as this happens Jenny heads up again, until the jib fills with wind again. The course "broad reach" is achieved. In the next scene they go on to bear away and the jib collapses again behind the main sail. Jenny commands: "Trim sails!" and Tom pulls the jib to the other side. Now they sail with the wind directly behind them and the course "running" or "sailing downwind" has been reached.
Sailing instructor Captain Sailnator is very satisfied with his students. Now it is time to call it a day. Except, Harbourmaster Peter is still there. He has noticed that Captain Sailnator forgot his buoy out on the sea. But closing time is closing time. Even for Peter.
You can embed this video on your website. You will find the respective code here on Youtube → Don't forget to share the video on facebook, twitter, google+ etc. Thank you very much!
All videos: Leaving the dock | Points of Sail | Tacking | Beating | Berthing | Quick-turn | Sailing up head to wind | Man overboard | Jibing | Heaving-to
Legal notice: LEGO®is a trademark of the LEGO Group of companies which does not sponsor, authorize or endorse this site.