Captain Sailnator wants to show jibing to the audience today. The pupils leave the dock and Jenny bears away till the jib collapses behind the mainsail. She tries to keep on course.
← last Video | Overview | next Video →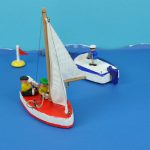 But in the moment she wants to haul the mainsail she tugs the tiller. She nearly jibs accidently again.
After this shock she cannot remember the commands anymore and the boat sails too far away. So they come back and try again. This time Jenny sails perfectly straight forward after the jib collapsed. She hauls the mainsheet, takes a seat on the other side and pushes the tiller away from her. When the sail gets wind from the other side she commands: "Jibing!" She lets the mainsheet run through her open hand and stops it shortly before the boom hits the shroud. In that moment she pulls the tiller forcefully once. Tom pulls the jib to the other side and both trim the sails for broad reach. "Great work, Jenny!" Captain Sailnator is so excited that he wants to see them jibe once again.
Even the second time the manoeuvre works perfect and Jenny returns to the dock. Captain Sailnator orders: "Secure sails and clear the deck!" and leaves the jetty. But what does he have to see when he returns? Jenny and Tom are kissing! Captain Sailnator pulls back in disgust, but Jenny and Tom are happy!
You can embed this video on your website. You will find the respective code here on Youtube → Don't forget to share the video on facebook, twitter, google+ etc. Thank you very much!
All videos: Leaving the dock | Points of Sail | Tacking | Beating | Berthing | Quick-turn | Sailing up head to wind | Man overboard | Jibing | Heaving-to
Legal notice: LEGO®is a trademark of the LEGO Group of companies which does not sponsor, authorize or endorse this site.